Add a timeless, natural water feature to your garden this year. Our garden features are designed to be a legacy piece for your property, something passed down for the generations to come. Building a modern water feature in your garden will not only create value for your property, but also provides a relaxing and tranquil atmosphere to enjoy on those long summer days. These water features are also ideal for birds and animals to call home, and a great spot for learning more about nature and the world we live in.
Today, we take a look at several beautiful water feature ideas you may like to bring into your garden this year.
Pondless waterfalls
A Pondless waterfall is perfect for gardens that have limited space. This modern water feature allows you to utilise the vertical space in your garden and build a unique waterfall that will be a centrepiece for many years to come. Pondless waterfalls are a fantastic option for those who love the sight and sound of moving water, those who have a smaller space to work with but still wish to bring a natural ecosystem into their garden. These water features can be expansive or built to fit into tight spots.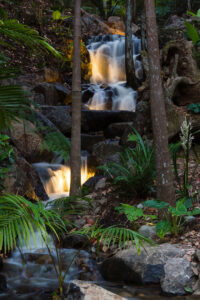 Recreation ponds
Want a backyard water feature that you can also swim in? Why not consider having a recreation pond built? These swimming ponds make wonderful garden features – they're expansive and filled with water that reflects the beauty of the surrounding landscape. A large recreation pond works well for gardens that have a lot of space. They're a great natural alternative to chemical pools, providing a habitat for native plants, along with birds, bees, butterflies, and animals. Safe to say, you're not the only one who'll be enjoying your beautiful recreation pond.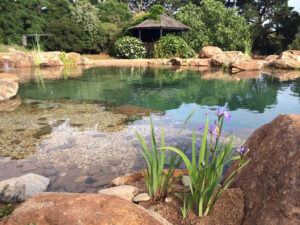 Streams
Streams work well for long, thin spaces where you'd still like to incorporate moving water. The benefit of a stream garden feature is that it doesn't use up much space. It's an excellent option for narrow spots, as well as those with limited vertical space, but with lots of horizontal area to work with. Stream designs often integrate wonderful rocks and luscious plants, to create an atmosphere that looks like it was plucked straight from a rainforest or riverside. A low-level stone path alongside the stream can add a nice touch and provide somewhere for visitors to stroll along, too.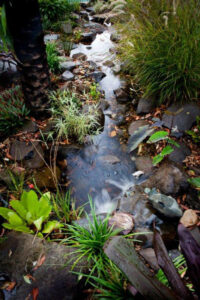 Plunge ponds
One option for people who wish to have a swimming pond in their garden, but don't have a whole lot of space to work with is a plunge pond. A similar concept to a plunge pool, a plunge pond is a deep but small pond. It can be built in more confined spaces, allowing you to enjoy swimming amongst nature in clear, natural water. Plunge ponds still incorporate natural stone and plants to create a captivating outdoor water feature, built to be a legacy piece in a garden. 
Ecosystem ponds 
An ecosystem pond is a garden pond that's built for plants, fish to live in the water, and a variety of other wildlife. Creating an ecosystem pond is a fantastic way to bring nature into your backyard. These ponds use clear, natural water, attracting water-dwelling critters such as frogs and birds to a garden. The water ecosystem and surrounding plants attract a wide range of native wildlife, providing a habitat for lizards, beneficial insects, and other animals. Explore nature within your own garden, teach kids about nature, and rediscover the beauty of the outdoors with an ecosystem pond.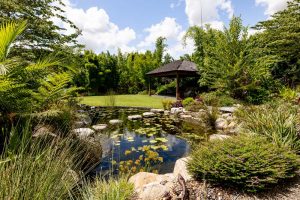 \Why install a water feature in your garden? 
The benefits of an outdoor water feature are many. They provide a relaxing, tranquil space for relaxing in and around and are a great way to reconnect with nature. Our water features add value to a property, and they tend to only get better with age as they settle into their rhythm. These features are versatile, and built with the natural flow of your landscape in mind. Our ponds make a great alternative to chemical pools, and we can create designs of all different shapes and sizes. 
How to decide which water feature is right for your garden
With so many water feature options out there, it can be tricky to decide which one to choose to bring into your garden. One fantastic element of our natural water features is that more than one can be incorporated into a design together. For example, you can have a waterfall that gently cascades into a recreation pond, or a stream that leads to a smaller ecosystem pond. Whether you're looking to build a large, multi-faceted water feature or are having a little trouble narrowing down which single one could be best for your garden, you can always get in touch with us for a consult. We understand how to build water features that flow naturally within a space, creating an effortless and timeless piece.