Over the years, Waterscapes Australia has been involved in countless varied projects across the country. Many of these have been commercial water features built for groups and businesses. From water features at public gardens and temples through to features built for animals, we've created lots of different commercial water features. 
Water Features
We've Built
This article takes a look at some of the commercial outdoor water features we've built in recent years. 
Lake Gkula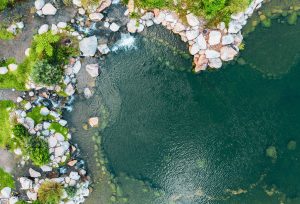 Located on the grounds of Woodfordia, Queensland, Lake Gkula is a large recreation pond open to the public. It contains more than 8000 plants and over 16 species of fish and crustaceans. The lake is named after a principal spokesperson of the Jinibara people, Uncle Noel Blair – whose indigenous name is "Gkula", translating to "koala".
Houndog Doggy Day Care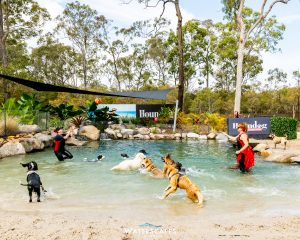 Another water feature within the commercial landscape is the lagoon at Houndog Doggy Day Care. We built this 14m x 9m recreation pond for the dogs at Houndog Doggy Day Care in Brisbane using 140 tonnes of local granite boulder. This expansive pond water feature allows dogs to cool off while socialising with other canines in a fun setting. 
Dharma Realm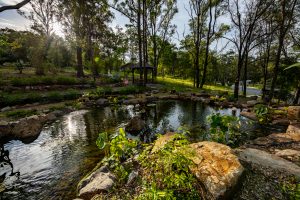 The tranquil Lotus Pond was built in early 2020 at Dharma Realm on the Gold Coast. As an ecosystem pond, it's built to sustain the lives of many different animals and plants. This pond blends in effortlessly with the Buddhist Temple and surrounds. 
Peregian Kindergarden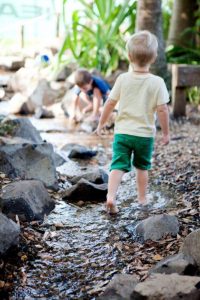 We built a Pondless creek at Peregian Kindergarten almost a decade ago. This water feature spans 18 meters and provides a space for kids to explore and discover the natural world. The creek was designed with children's play in mind, with no water deeper than 5cm at any point. 
Tamworth Bicentennial Park
One of our water features in Australia is the pond at Tamworth Bicentennial Park in NSW. This pond was created as a peaceful space within the park, and to provide a space for the birdlife that calls Tamworth home.
Bundaberg Botanic Gardens

Another outdoor water feature in Australia we've worked on can be found within the expansive Bundaberg Botanic Gardens. This pond was converted into a Pondless feature, complete with waterfalls and space for photo opportunities. 
Wildlife HQ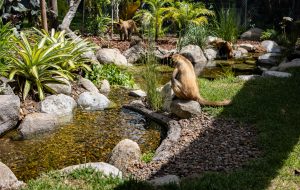 We recently completed a build with Aquascape Inc. for the gibbon exhibit at Wildlife HQ. The ecosystem pond was donated to the gibbons, and worked on by both Australian and US contractors. Located at the Big Pineapple in Woombye, Queensland, this water feature was designed to allow gibbons to frolic about, bathe, and builds over the years – both private and commercial. Contact us to have a chat about creating your own natural water feature.