Fish ponds make fantastic, living features in a backyard landscaping design. Not only are they beautiful to look at, they're also a great way to attract local wildlife and add value to your home. Some larger fish ponds in Australia can also double as a swimming pond.
Waterscapes Australia has been building fish ponds in Australia for 15 years. We've installed countless ponds, large and small, across the country, including both residential and commercial designs.
In today's blog, we explain a little about how we create our amazing, natural fish ponds, along with some reasons why you may want to have one built in your own garden.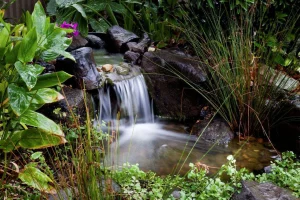 About fish ponds in Australia
As experienced pond builders, we construct fish ponds to suit backyards of many shapes and sizes. We specialise in creating custom-built ponds to meet your specific requirements. Our fish ponds use a combination of beneficial bacteria and mechanical filtration to keep the water clean and clear. 
At Waterscapes Australia, we don't use concrete in our builds, instead utilising high-quality EPDM pond liner as the base of the pond. This liner is built to last, and can be recycled if you ever wish to remove your fish pond. With each build, our priority is on sustainability. As such, we only ever use energy-efficient pumps and equipment, plus low-voltage LED lighting. Many of our designs include feature rocks, and these are sourced from within 100km of the project using compliant sources.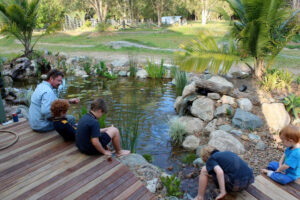 Steps for building a fish pond 
Step 1: Design
The first step in any of our projects is the design phase. We'll work with you to understand your ideas, and create a plan that meets your needs and budget. During this phase, we'll assess the layout and sloping of your outdoor space, and take into account any council regulations that may apply to your property. We'll also take measurements and discuss the type of fish and plants you'd like to keep in your pond.
Step 2: Excavation
Once you're happy with the design, we'll begin excavating the hole for your fish pond. Depending on the size and shape of the pond, this can take anywhere from a few hours to a couple of days. For larger projects, we may need to bring in excavation machines and as such, will require site access to your property. 
Step 3: Liner and plumbing
After excavating, we'll place an underlayment layer over the soil, then line the area with EPDM pond liner. We use Firestone liners that are thick, tough and designed to withstand UV rays, temperature extremes and root penetration. This makes them ideal for fish ponds in Australia. During this stage, we'll also position any piping, underwater lighting, pumps, skimmers, and other filtration products needed. We'll also place rocks and gravel on the liner to keep it secure and create submerged features within the design. One thing we love to do is place a partially-submerged feature rock to serve as a focal point within the pond. This is great for drawing the eye into the water and adding interest to the overall design.
Step 4: Adding water
Next, we begin to wash down the gravel and rocks, removing any dirty water that runs off. When it runs clear, we will fill the fish pond. For larger projects, this can take some time as we need to be careful not to overfill. We'll also add treatments and beneficial bacteria to the pond to help establish healthy and clean water. 
Step 5: Landscaping and design
After adding water, we'll add aquatic plants to the pond and decorative plants to the pond surrounds. Aquatic plants help to oxygenate the water, provide shelter for fish, and can also act as natural filters. We typically add a mix of submerged, marginal and floating plants to our fish ponds. Marginal plants and stones can be added to the surrounding area to help mitigate erosion and provide a habitat for wildlife. Choose between native, exotic, or a mix of plants for your fish pond in Australia. We always aim to create a natural-looking pond that enhances your outdoor space, and this includes carefully selecting the surrounding plants and other features. 
Step 6: Introducing fish
When the water is ready, you can then begin to introduce fish into your new pond. We recommend adding fish to your pond once the water has settled and the temperature is right. It can take a few weeks for this to happen, so be patient! At Waterscapes Australia, we can help you choose the right fish for your pond, depending on the size, shape and location. You can keep a range of different fish in your pond, including goldfish, koi (depending on your state/territory laws), and Australian natives such as bream and perch.
How a fish pond can add value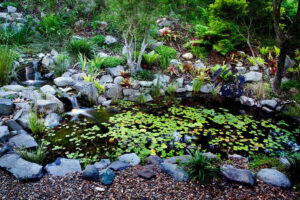 There are many ways that a fish pond can add value to your home. A well-built fish pond is a thing of beauty, adding character and interest to your outdoor space.
It can increase the curb appeal of your place, while also adding value to your home if you decide to sell in the future, as ponds are considered desirable features by many buyers. It can also be a great place to relax next to (or in!) and enjoy the natural surroundings. Another way ponds add value is by providing a place of learning for kids. A fish pond can be a valuable tool for teaching children about life cycles, animals, and plants. 
At Waterscapes Australia, we're experts in building fish ponds in Australia. We have 15 years of experience in designing and constructing ponds of all shapes and sizes. Our specialty lies in creating sustainable water features that will become a legacy piece for your garden, providing enjoyment for generations to come. 
If you're thinking about having a fish pond built in your garden, get in touch with Waterscapes Australia today. We'd be happy to discuss your needs and design a custom fish pond that fits your space perfectly, growing to become a legacy piece for your property.