"This has been fantastic service from start to finish, above and beyond the call of duty. So glad we had you do our waterfall. Very satisfied!"
Our Clients Include
Woodfordia Inc. QLD
Cairns Botanic Gardens, QLD
Gosford Shire Council NSW
Kuranda Bird World, Far North QLD
SCOPE Disability Services Victoria
Bundaberg Regional Council, QLD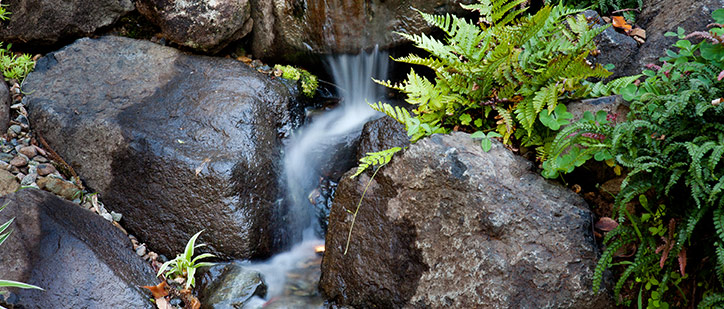 Wow!!! We love it!!, thank you, you guys did a great job, Darren and Liam were amazing, I am sure you are very proud of their work. It was really great how they worked in with Adam to put a piece (rocks and timber from the property) of our farm into the project too. Thank you so much for everything and we are so happy we now have our centrepiece for our front entrance. It has always been my dream to have a Waterscapes stream/pond etc., your displays are the main reason I go back to the garden show every year, and now we have one. Thank you for making the dream a reality! It looks great now, I can only imagine how extra great it will be when the plants grow up a bit more. Thank you again and hope you enjoy the photos, I will get some more in better light soon and the plants have settled in. kind regards, Maryanne and Adam
As an employee of 30 staff I know and appreciate how difficult getting and retaining good staff can be. I must congratulate you on your staff, their work ethic during the hottest days in Febuary was amazing, it did NOT slow them down at all. They are truly dedicated to what they do and have such a strong belief and pride in their workmanship even to the extent of naming the rocks and joking about being rock "whisperers". The end result with my feature is amazing and I am already getting sooooo much enjoyment thanks to your dedicated staff. Once again please thank your boys for an amazing journey
We could never have imagined the joy that we get from the magnificent pond that Patrick and his team built in just three days. It was so easy to work with Patrick who took on board our ideas and developed them into what is now a lovely feature in our garden. Thank you Patrick.
Patrick and the crew from Waterscapes Australia created a natural looking pond and stream that looks like it has been there for years. l can honestly say that Patrick has a true love for his job and made sure that I was satisfied all through the process. Patrick's knowledge about fish, aquatic plants and their habitats is second to none and he's genuinely interested in all things aquatic. His after sales service and support has been excellent. I would recommend Patrick to anyone who is after excellence in a pond design and construction service.
A few months ago I made the wise decision to attend the Garden Show at Nambour where I met Patrick from Waterscapes Australia. I told him I had a two year old professionally made pond that was in such disarray that I was thinking of filling it in, because it had been a disaster from the beginning. Patrick came to see our hole in the ground and told us what he would have to do to fix the catastrophe. He and his team not only fixed the problem but turned that part of the garden into the most beautiful, natural water landscape complete with waterfalls, creeks and pond. Patrick's professionalism, dedication and eye for detail, took four days to exceed my expectations and deliver something very magical. I am overjoyed with the results and would have no hesitation in recommending Patrick and his team to build and or transform any water garden.
Earlier this year, we visited Patrick's exhibit at the Queensland Garden Expo. We were immediately impressed with the quality of the display and we decided there and then that we would like Patrick and his team to design and construct a water stream feature for us. Right from the initial consultation, Patrick demonstrated a flair for setting up a water feature and retaining wall which would be done in such a way as to give us the most enjoyment. His quotation, commencement and completion of the work were very timely and professionally done. Now, we have a wonderful water feature which is thoughtfully integrated with a "natural impressions" block retaining wall. We used Patrick's horticultural experience to help select and place plants and shrubs around the water feature and we are so pleased with his talented work as each element complements the other. If you are contemplating a water feature we highly recommend Patrick and we are sure you will be immensely pleased with the result
Everybody knows how much I love my waterfall created by WATERSCAPES AUSTRALIA .. Well recently with this heat wave I've been having a problem with algae, the poor plants weren't doing so well and a few stream bulbs had blown. I'd arranged for permanent shade to go up, but the garden mightn't be able to hold out that long so…. I rang Patrick ….. Not only did I get a reply immediately, a few days later I had Ben and Una at my place replacing bulbs and erecting temporary shade.. Lovely people ….. THIS HAS BEEN FANTASTIC SERVICE FROM START TO FINISH, ABOVE AND BEYOND THE CALL OF DUTY….. SO GLAD WE HAD YOU DO OUR WATERFALL. VERY SATISFIED 🙂